Spray Foam Insulation, Fiberglass & More in the DC Metro Area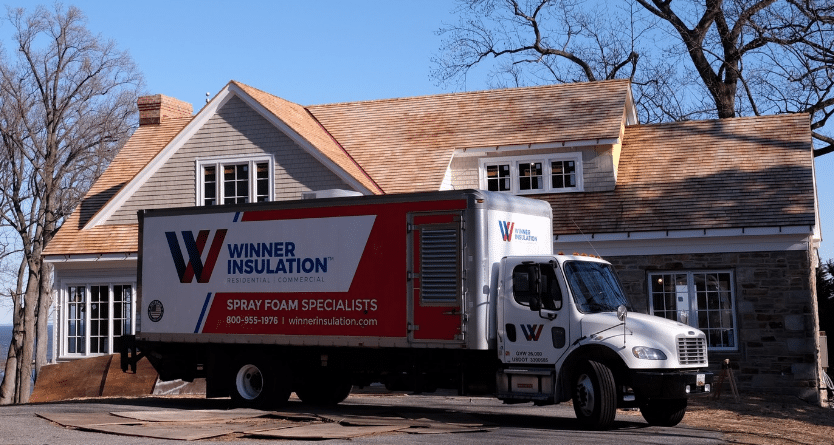 One of the best ways to make any building more comfortable and energy-efficient is with properly installed, high-quality insulation.
Whether you're working on a new construction project, a retrofit, or upgrading your home insulation, turn to Winner Insulation for the sustainable, energy-efficient solutions you need to maximize your building's performance.
Our veteran-owned insulation company is a leading installer of residential and commercial insulation products in the Washington, DC, area. We feature exceptional service with experienced personnel and some of the best insulation products on the market.
Our team works with builders, contractors, and homeowners to identify the most effective and cost-efficient insulation options for their projects. We provide professional installations that create a high-performance outer envelope for your building.
Call Winner Insulation today at (800) 955-1976 to request your free quote for insulation services in the Washington, DC, area.
Residential Insulation Services
A comfortable home is a top priority for any family in the DC metro area. The correct amount of insulation helps a home hold on to heat longer in the winter, keep it out in the summer, and minimize energy costs throughout the year.
At Winner Insulation, we can provide builders, developers, and homeowners with the best home insulation products to maximize efficiency and comfort.
We offer high-performance:
Wall & floor insulation
Crawl space insulation
And more
Whether your project is a renovation, whole-home, or custom build, we make the process as convenient as possible with high-quality, turn-key installations and great financing options for those with approved credit.
Find the best insulation for your residential project by talking to our experts at Winner Insulation.
Call (800) 955-1976 to schedule insulation services.
Commercial Insulation for Businesses
Maximize the performance of your commercial building and keep energy costs as low as possible with quality commercial insulation from Winner Insulation.
We can recommend the ideal products for each area of your building and provide insulation installations for retrofit and new construction projects.
We serve all types of offices and commercial facilities in the DC metro area, as well as businesses in these industries:
Call (800) 955-1976 today to request a quote for commercial insulation services.
Insulation Solutions We Install
At Winner Insulation, we offer many insulation products to meet your needs, and we specialize in spray foam insulation for residential and commercial projects.
Spray foam insulation is a two-part polyurethane compound that expands when mixed, filling wall cavities and conforming to objects like outlet boxes, pipes, and electrical cables. Its ability to fill every nook and cranny means it offers superior thermal performance and air sealing.
Our experts have the skill and experience to ensure our spray foam insulation is installed properly and cures correctly.
We adjust the mixture as necessary to compensate for temperature and humidity changes throughout the installation process, providing a finished product with the best possible performance.
Our full line of insulation products includes:
Spray foam insulation: We install closed-cell and open-cell spray foam. Closed-cell is denser for better air sealing and thermal performance, while open-cell is permeable and more flexible.
Fiberglass insulation: Available in batts or blown-in, fiberglass is made from thin glass fibers that create insulating air pockets. The batts are sized to fit snugly between framing studs, rafters, and floor joists.
Cellulose insulation: Made primarily from recycled materials treated to resist fire, pests, and moisture damage, cellulose is blown in and fills wall cavities tightly, creating a good air barrier. It's ideal for insulating existing walls through small openings that are easy to repair.
Call (800) 955-1976 today to schedule your commercial or residential insulation project in Washington, DC.
New Home Construction & Retrofit Insulation Services
Whether you're building a new home, remodeling an existing one, or upgradingyour insulation, our team at Winner Insulation can provide the service you need to make your building comfortable and energy-efficient.
We work with builders, contractors, and homeowners, offering new construction insulation services, insulation for custom homes, and retrofit insulation throughout the DC area.
Call (800) 955-1976 today to request a quote for residential insulation services in Washington, DC.
Contact Winner Insulation for Insulation Services in Washington, DC
When you need cost-effective, high-quality insulation for your next building or remodeling project in the Washington, DC, area, trust Winner Insulation. We provide top-notch service with a focus on integrity and excellence.
We've worked with award-winning architects and custom home builders throughout the DC area and will ensure your insulation installation meets the highest energy-efficiency standards.
Call (800) 955-1976 today to schedule a consultation in the DC metro area.