Experts in Spray Foam Insulation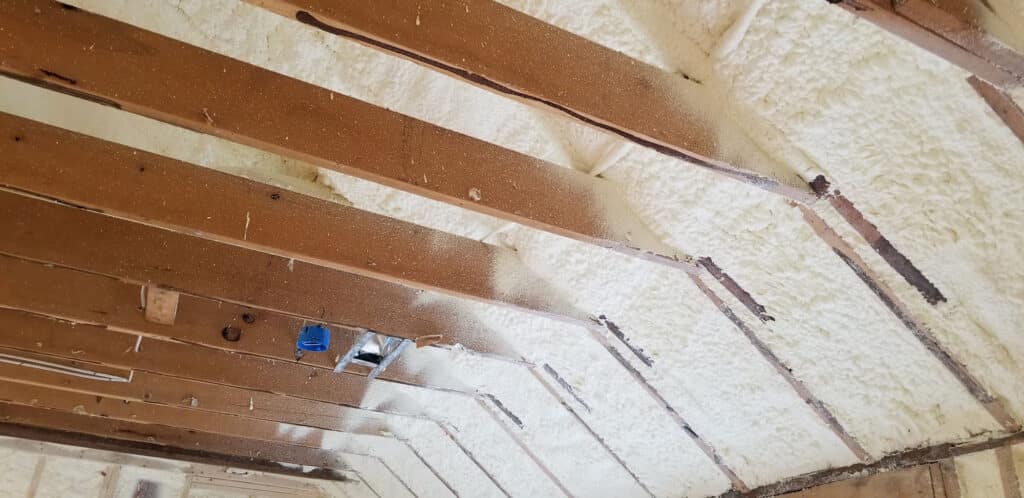 Insulation keeps your property's interior cool in the summer and warm in the winter. To maintain indoor temperatures year-round, consider spray foam insulation.
Spray foam can help lower your energy bills and make your home or commercial building more comfortable, even on the coldest and hottest days of the year.
As a leading spray foam insulation contractor, Winner Insulation provides high-quality and environmentally friendly open-cell and closed-cell spray foam insulation services in the greater Virginia, Maryland, and DC areas.
The spray foam insulation experts at Winner Insulation are ready to get your project started.
---
---
What Is Spray Foam Insulation & How Does It Work?
Most spray foam insulation is composed of a polyurethane-type liquid that, when combined with air, expands and forms a seal to reduce air leakage. Technicians use specialized equipment to spray the foam into desired spaces, and, once sprayed, it hardens quickly.
Spray foam insulation seals wall, ceiling, and floor cavities against air movement, making it great for basements and crawl spaces. It can also be installed in attics to ensure your home is energy-efficient. This includes spaces where walls meet doors and windows and around light fixtures and electrical outlets.
Unlike other insulation materials, spray foam never loses shape and won't sag, compress, or settle over time.
A trained professional should install spray foam insulation to ensure proper application and effectiveness.
Contact our technicians today at (800) 955-1976 to get a free quote on spray foam insulation installation.
What's the R-Value of Spray Foam?
R-values measure an insulation material's ability to prevent heat transfer into and out of your home. They're measured per inch of insulation thickness based on the insulating material's type, density, and thickness.
The higher the R-value, the greater the insulation's energy efficiency and climate control. Spray foam insulation R-values range from 3.5 to 7 per inch of thickness, with open-cell spray foam measuring about 3.8 per inch of thickness.
That means some spray foam products provide the same energy savings in half the space typically required by other insulations. Closed-cell spray foam has the best R-value per inch compared to other insulations, like cellulose and fiberglass.
Our spray foam insulation installers are ready to start your residential or commercial insulation project.
---
---
Benefits of Installing Spray Foam Insulation
Spray foam insulation can save you money and prevent energy loss, but it has additional advantages, including:
Enhanced noise control: It helps silence traffic, appliance, and plumbing noises.
Stops air infiltration: Gaps and air leaks allow heating and AC to go to waste, driving up utility bills.
Improves ventilation and air quality: Properly ventilated basements, crawl spaces, and attics create a positive airflow that allows a home or building to "breathe."
Moisture control: Cooking, showering, and washing can put a surprising amount of moisture into the air. Spray foam insulation helps control moisture pass-through in walls, floors, and ceilings.
Greater thermal performance and R-value: It has a higher thermal performance than other insulation forms of comparable thickness.
You can trust Winner Insulation's expertly trained spray foam insulation installers to handle your project flawlessly from start to finish.
---
---
Contact Us for Spray Foam Installation in VA & DC Metro Area
Veteran-owned and -operated Winner Insulation provides complete spray foam insulation services for residential and commercial properties, including new construction and additions, remodels, or re-insulation projects.
We work with homeowners, builders, architects, and real estate developers to deliver the highest quality insulation services possible in Virginia, Washington, DC, and Maryland, including Baltimore, Rockville, Bethesda, Alexandria, and Arlington.
Have questions about spray foam insulation for your DC, Virginia, or Maryland home or business?
Call (800) 955-1976 to schedule spray foam insulation services or get a free quote on your insulation project.
---
---
Frequently Asked Questions About Spray Foam
Common questions we receive about spray foam include:
Where can I install spray foam insulation?
Common areas for spray foam insulation include the attic, interior and exterior walls, the basement, and the crawl space. Insulating these areas with spray foam will protect your home against energy loss, regulate temperature, prevent moisture issues, and protect your pipes.
What's the difference between open-cell & closed-cell spray foam?
Open-cell spray foam is low-density, more flexible, and has a lower R-value than closed-cell spray foam. Open-cell foam is great when insulating hard-to-reach areas because of its expansion.
Closed-cell foam is denser and more rigid. It can add to structural integrity and is an exceptional choice for areas where space isn't an issue.
Can you use spray foam in existing homes & new construction?
Spray foam is effective for existing homes and new construction. Spray foam for new construction will enhance structural integrity while increasing energy efficiency and providing a barrier against moisture.
Adding spray foam to an existing home will also increase energy efficiency while protecting against pest infestations and mold or mildew from moisture buildup.