Providing Whole-Home Insulation in Maryland & DC
Get a Free Estimate on Spray Foam, Cellulose & Fiberglass Insulation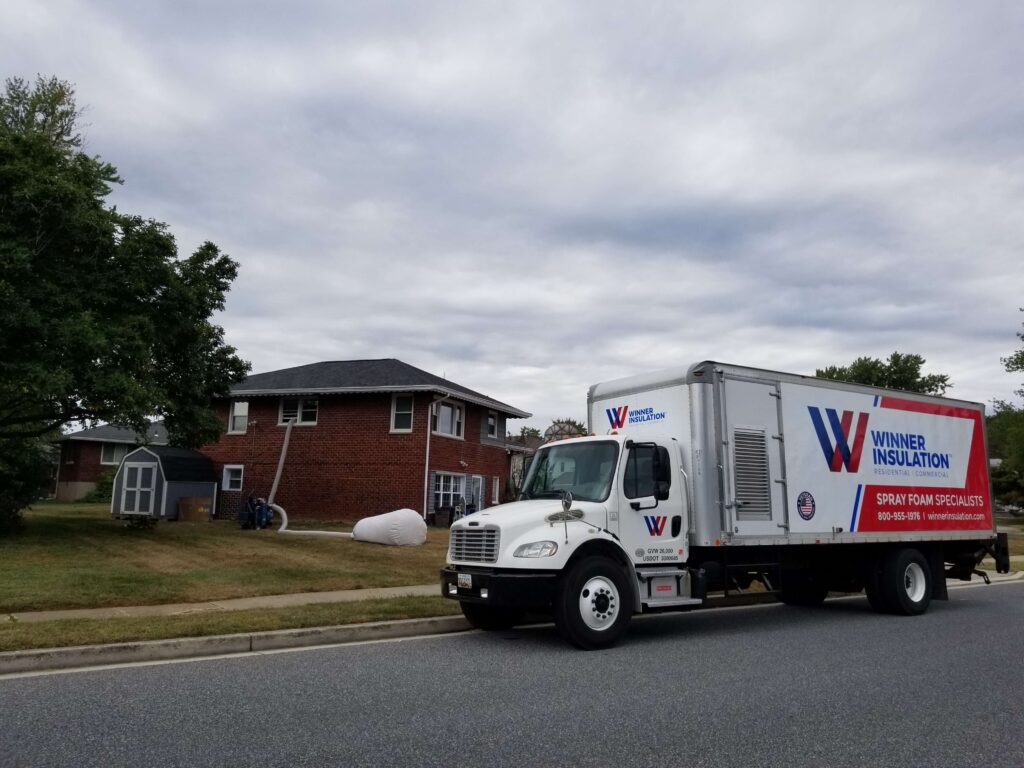 Insulation is any material that is used within the walls of a building to keep heat in (or out), soundproof, increase fire resistance, or minimize vibration impact.
When people think of home insulation, the first image that probably comes to mind is a bunch of pink foam in the attic. This is typically the cheapest way to insulate your home, and it's most common in older homes.
Whole-home insulation ― insulation within your walls, ceilings, and floors ― is common these days, and there are very real benefits that come along with it.
For more information on our whole-home insulation services in the Washington, DC, Maryland, and Virginia areas, contact our experts online or call Winner Insulation at (800) 955-1976 today!
Benefits of Insulating Your Whole House
There are various benefits to installing insulation throughout your entire home, including:
Better comfort
Save money with reduced energy bills
Environmentally friendly
Increased home value
Noise reduction
If you are looking to improve your DC, MD, or VA home, contact Winner Insulation about our whole-home insulation services — call us at (800) 955-1976 today. We also include flexible financing options!
What Areas of Your Home Need to Be Insulated?
Adding insulation to new construction or to an existing home can help reduce utility bills and create a more comfortable environment. Some homeowners are committed to insulating their whole home, but they're not sure where to start. These are some of the specific locations of the home where you should insulate:
Kinds of Whole-Home Insulation We Install
At Winner Insulation, we install several types of whole-home insulation, including:
Winner Insulation contractors are here to help you decide the right product for the right location, based on your home's requirements. We will work with you to make the ideal, energy-efficient choice while being mindful of your budget.
Spray Foam Insulation Is Our Specialty
At Winner Insulation, we are one of the leading spray foam insulation contractors in the Washington, DC, area. We offer high-quality, environmentally friendly closed-cell and open-cell spray foam, plus a full line of other insulation services.
Our experts can help you find the perfect insulation products for your needs, and our installation services can leave your residential building with improved comfort, greater efficiency, and better air quality.
To learn more about the benefits of spray foam insulation and how it can apply to your whole-home insulation project, call us today at (800) 955-1976.
Get Started on Insulating Your DC-Area Home Today
Builders need a reliable insulation partner for their new construction, new addition, renovation, or reinsulation whole-home insulation project.
At Winner Insulation, our first priority is our clients. We know what builders need, and we provide expert insulation solutions accordingly. Each project has its own requirements; our crew meets every project's needs, keeping in view its particular specifications.
For trusted whole-home insulation services in the Baltimore, Rockville, Bethesda, Washington, DC, Alexandria, and Arlington areas, contact Winner Insulation online or call us at (800) 955-1976.
FAQs about Insulation
What's an R-value, and how does it affect my insulation choices?
R-values are a measure of insulation's ability to prevent the transfer of heat into and out of your home. They're measured per inch of insulation thickness and are based on the type, thickness, and density of the insulation material. The higher the R-value, the greater the insulation's climate control and energy efficiency.
Can I use one type of insulation for my entire house?
Yes, but you'll be better served by having different ones in different spots. The lowest average R-value per inch insulation is blown-in or loose-fill, followed by batts and rolls, spray foam, and foam board insulation, which has the highest R-value. Because your home loses more heat through the exterior walls and roof, you'll want to use a higher R-value insulation in those locations. For floors, doors, and crawl spaces and basements, you can generally use insulation with a lower R rating.
How do I know if I have enough insulation?
The top signs your home is underinsulated include fluctuating temperatures, higher energy bills, cold floors, ceilings, and walls, chilly drafts, uneven heat in different rooms, attic water leaks, frozen indoor pipes, and ice dams on your roof.
Can I just add more insulation over what I already have?
Sometimes yes, and sometimes no. It depends on the type of existing insulation and its condition. You can put batts over loose-fill material and vice versa. If you've had leaks in your attic and the old insulation is wet, it should be removed before installing new material. Otherwise, the trapped wetness between the two layers can develop mold and mildew and cause severe damage to the floor and rafters.
What's the difference between open-cell spray foam and closed-cell?
Though both adequately insulate a home, they do it in different ways. Open-cell spray foam is full of cells deliberately left open to make the foam softer and more flexible. Closed-cell foam is made up of completely closed cells, making it a more rigid and stable material than open-cell foam.
Can I install insulation myself?
We don't recommend it. Spray foam installation requires expertise, and even simpler materials need specialized tools like protective equipment. A professional installer ensures the job is done right.
Have more questions about residential insulation for your DC metro or Maryland home? Contact Winner Insulation online today or call us at (800) 955-1976 to learn more or to schedule an appointment.