Do you struggle with uneven indoor temperatures, uncomfortable drafts, and moisture problems? On top of these issues, your energy bills may be through the roof—literally! What you need is improved insulation in the attic, roof rafters, wall cavities, crawl space, and other areas of the building envelope.
At Winner Insulation, we install several types of insulation, including spray foam, fiberglass, and cellulose to improve the efficiency of your home or business. Insulation is an investment that pays for itself in lower energy bills and enhanced comfort, but you may be wondering how you'll fund the project upfront. Don't let a tight budget stop you from enjoying a comfortable home and lower energy bills for years to come—finance your next insulation project with Winner Insulation.
To learn more, contact our insulation company, proudly serving Baltimore, Washington DC, Fairfax, Chevy Chase, and Alexandria.
Our Financing Options
We offer two primary financing options:
Reduced rate 9.99% for 96 months: Give yourself plenty of time to pay off your investment with a 96-month loan at 9.99% APR. This reduced rate is subject to credit approval.
12 months no interest, with payments: This financing option gives you up to 36 months to pay off your loan. If you pay back the full purchase amount within 12 months, all interest is waived. This promotion is subject to credit approval.
At Winner Insulation, we make qualifying for financing a seamless part of your insulation project. We work with GreenSky, an equal opportunity consumer credit program that provides financing without regard to age, race, color, religion, national origin, gender, or familial status.
If you're interested in financing your insulation project with us, get in touch to request a free quote today.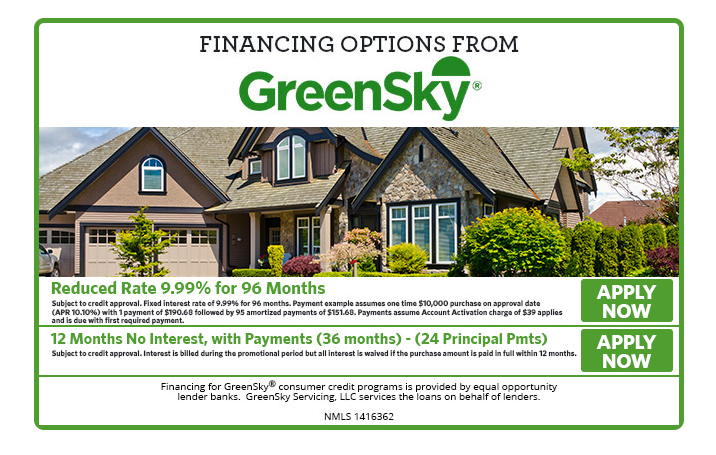 Why Finance?
Some property owners hesitate to finance home improvement projects, but these days, it's a common practice. In fact, taking out a loan to keep your home safe, comfortable, and up to date is the responsible thing to do. Plus, a majority of homeowners completing projects over $5,000 choose to finance rather than dip into their savings accounts.
While the interest rate and payment period you qualify for may vary, you have the chance to spread out the cost of your project over several months or years. This provides you with easy-to-manage payments that, in some cases, accrue no interest.
As a result, you get the insulation upgrade you've been hoping for without paying for the entire project upfront. In many cases, this makes the difference between having to postpone the project for several more years and being able to afford it today!
Schedule Insulation Services in MD, VA, or DC
The experts at Winner Insulation are dedicated to making your home improvement project as affordable as possible. Let us know about any financial constraints upfront, and we'll recommend the right products and procedures to help you maximize the benefits of new insulation without going over budget.
Contact us today to set up an appointment at your home, or visit our Baltimore facility to see our insulation products in action. We would be happy to offer a free estimate and discuss your financing options with you.