Insulation Solutions for Businesses in MD, DC & VA Area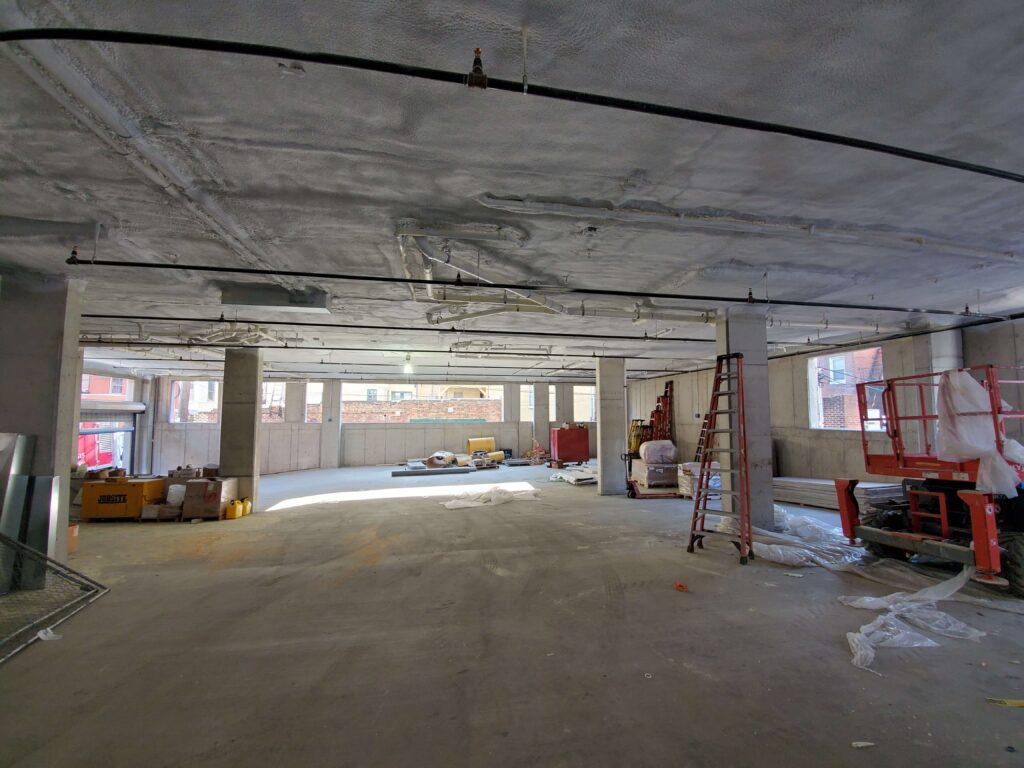 When it comes to maintaining a comfortable, efficient building, few things are more important than having adequate insulation. At Winner Insulation, we specialize in insulating commercial properties to improve their performance.
We serve many industries, including government, military, agriculture, and industrial, and we have experience working with architects, real estate developers, and builders.
Our commercial insulation contractors are dedicated to informing you about the latest high-performance insulation products available. Trust us to help you find the ideal, energy-efficient choice while remaining mindful of your budget.
Call (800) 955-1976 to get a quote on your new construction or re-insulation project.
We service Baltimore, Fairfax, Chevy Chase, Alexandria, and surrounding areas.
Commercial New Construction Insulation
Winner Insulation is one of the go-to commercial insulation companies in DC. Our innovative technical solutions and insulation expertise set us apart from the rest. We understand the building design and construction process and are happy to be involved every step of the way.
Let us recommend the best insulation solutions for your new construction project, which may include spray foam, fiberglass, or cellulose. We'll guide you toward products that will make your building more comfortable, less costly to operate, and easier to maintain.
Ready to learn more? Contact us today at (800) 955-1976 for a free consultation and quote.
Commercial Retrofit Insulation
Does your building suffer from poor air quality? Perhaps your heating and cooling costs have gotten out of hand, or you're worried about moisture issues compromising the structural integrity of your building.
We offer retrofit insulation solutions to help combat these types of problems.
Wall cavities, roof rafters, foundations, and other components of the building envelope often have inadequate insulation.
With the addition of spray foam or other insulation for commercial buildings, you can reduce air leakage, heat transfer, and condensation that can degrade the comfort, efficiency, and air quality of your building.
To work with commercial insulation experts on your retrofit project, trust the job to Winner Insulation.
Commercial Insulation We Install
Spray foam is one of the most efficient, stable, long-lasting, and versatile insulation materials available. This product is spray-applied as a liquid plastic that seals itself to walls and pipes. It expands many times its original size in mere seconds, filling all gaps in the process.
When it hardens, spray foam acts as an air and moisture barrier for maximum effectiveness. It has a high R-value per inch and comes in open-cell, closed-cell, and pour-in-place (PIP) varieties.
While commercial spray foam insulation is popular for commercial roof insulation, commercial warehouse ceiling insulation, and other applications, it's not the only option. We also install more traditional materials, including fiberglass batts/rolls and blown-in cellulose.
Not sure which insulation material to choose? Our team can evaluate your home or business and help you choose the best option.
Choose Winner Insulation for reliable spray foam and fiberglass installation in your DC-area commercial property.
Call (800) 955-1976 to schedule your appointment.
Get a Quote for Your Commercial Insulation Project
We're ready to discuss your commercial or industrial insulation project. If you need help selecting and installing the perfect commercial ceiling insulation, we're the experts you can trust.
We have years of experience guiding our clients from consultation to installation, and your satisfaction is our utmost priority. Our hand-picked technicians have the talent and dedication you need to ensure the success of your project.
Contact us online or visit our Baltimore facility to discuss your project in person.
FAQs
My space will just be used for storage; do I need insulation?
Insulating a building's entire envelope ensures greater energy efficiency and noise control. Also, because insulation reduces condensation, heat transfer, and air leakage, it helps improve the indoor air quality of your entire building, giving you a competitive advantage.
What's the best insulation for commercial buildings?
That depends on your needs and things like the building's size, its age, and what material it's constructed with. You'll also need to consider any local ordinances that dictate the insulation to be used.
What's the best type of insulation for metal buildings?
Economical fiberglass batts remain the most popular choice, but spray foam is often used to reduce air leaks more effectively. Blown-in cellulose is ideal for sealing corners.
Can I add new insulation on top of old insulation?
Sometimes, yes. Depending on the type and condition of existing insulation, you may be able to add insulation instead of replacing it entirely. An insulation professional can help you determine if this is possible.
What are the benefits of spray foam insulation?
An excellent option for making your commercial building more energy-efficient, spray foam insulation creates a seamless monolithic air barrier that allows you to maintain consistent and constant comfort throughout your building.
We need to manage our space's humidity; which insulation is best for that?
The EPA reports that mold growth accelerates at 60% humidity. The agency recommends indoor humidity be kept between 30% and 50%. Along with proper ventilation, spray foam insulation is great choice for improving indoor humidity levels.
We're committed to sustainable design; is insulation sustainable?
Comparing and selecting the right insulation is an essential part of sustainable design. Benefits include decreased energy use, improved indoor air quality, and greater comfort. Some insulation types can also contribute to recycled content requirements and minimize greenhouse gas (GHG) emissions.
Have more questions about new and re-insulation commercial insulation?
Contact Winner Insulation at 1-888-994-8505 to schedule an appointment.