Get a Free Estimate on Spray Foam, Cellulose & Fiberglass Insulation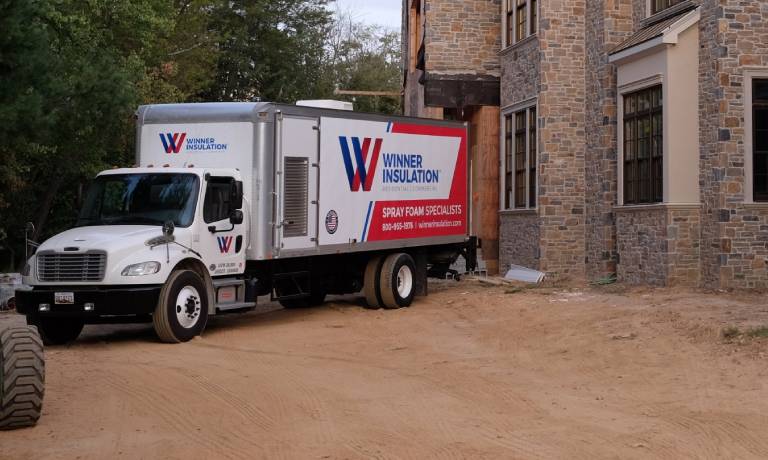 Winner Insulation is your go-to home insulation company in Maryland and DC. We specialize in providing top-quality insulation solutions for homeowners looking to improve their home's energy efficiency and comfort.
With over 20 years of experience in the industry, we have the expertise to handle any insulation project, big or small.
At Winner Insulation, we pride ourselves on delivering exceptional service, superior work, and competitive pricing. Let us help you keep your home cool in the summer and warm in the winter while also saving money on energy bills.
Contact Winner Insulation at (800) 955-1976 to schedule insulation installation in the Maryland or DC area.
Best Insulation for Homes
Insulation is a crucial component of any home, as it helps keep the temperature regulated and energy costs down. Various types of insulation are available, each with its advantages and disadvantages.
Spray foam: This type is sprayed onto surfaces and expands to fill any gaps, creating an air-tight seal. It's great for hard-to-reach areas and can improve indoor air quality by keeping out pollutants and allergens.
Cellulose: Made from recycled materials like newspaper and cardboard, cellulose insulation is treated to resist fire, insects, and mold. It's eco-friendly and effective at reducing noise levels.
Fiberglass: This type is made of fine glass fibers and comes in batts or rolls. It's easy to install and affordable, making it popular for many homeowners. However, it may not be as effective at air sealing as other types.
Importance of Insulating Your Attic
One of the most important areas to insulate in your home is the attic. Without proper insulation, your attic can become a major source of energy loss and cause your energy bills to skyrocket.
Poor attic insulation can also make your home uncomfortable, with hot spots in the summer and cold spots in the winter. Insulating your attic with spray foam can create an effective barrier against outside elements, keeping your home's temperature consistent and comfortable.
Call (800) 955-1976 today to learn more about insulating your attic.
Where Can You Install Insulation?
At Winner Insulation, we can install insulation in various areas throughout your home. Some of the most common places include:
Attics: This is one of the most important areas to insulate, as it can account for up to 30% of heat loss in a home.
Basements: Insulating your basement can help keep it dry and comfortable while preventing heat loss through the foundation.
Walls: Insulating your walls can help reduce noise levels and prevent heat loss.
Floors: Insulating your floors can help prevent heat loss and make your home more comfortable in the winter
Whole-home insulation: This involves insulating every part of your home to ensure maximum energy efficiency and indoor comfort.
Insulation for renovations and additions: It's important to properly insulate an addition or renovated space to ensure it's integrated with the existing insulation system.
Get a Free Estimate on Home Insulation
At Winner Insulation, we understand that every home is different and every homeowner has unique insulation needs. That's why we offer a free estimate on home insulation services to help you determine the best solution for your home.
Our experts will assess your home's insulation needs and provide a detailed estimate so you can make an informed decision.
With our exceptional service, competitive pricing, and commitment to customer satisfaction, Winner Insulation is the right choice for your home insulation needs.
Call (800) 955-1976 today for professional and reliable attic insulation, home insulation, or spray foam services.